3-Day Fashion Consultant & Personal Stylist Training Courses – Brazil, Mexico, India, South Africa, China, Indonesia, Philippines, Sydney, Dubai, London & New York
Have you been dreaming of becoming a personal stylist and personal shopper and would like to attend a top-notch image consultant and personal stylist training certification program however you live in Africa, India, Asia or South America and are finding it difficult to locate a reputable course or schedule the time to travel for training?  The Sterling Style Academy, an internationally recognized personal stylist and personal shopper training program that specializes in training successful pioneers in the image consulting industry worldwide, is your solution as we are coming to Mumbai, New Delhi, Johannesburg, Sydney, Hong Kong, Jakarta, Manila, Mexico and São Paulo at the end of 2011 and throughout 2012 to conduct our 3-Day Short Courses in Personal Styling and Personal Shopping.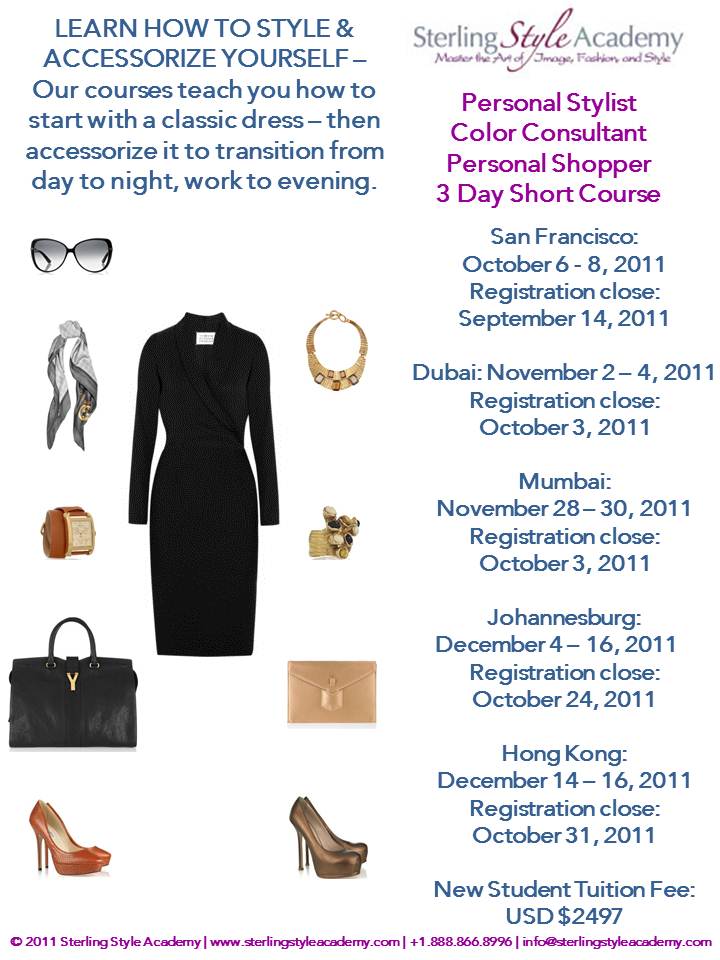 The Sterling Style Academy's 3-Day Personal Stylist Short Courses are designed to get you started in the personal styling and fashion styling industry as the basis for this type of career begins with color analysis and fashion style evaluation and implementation. These are also the foundations to properly executing personal shopping consultations for yourself, friends, family, and prospective clients.  Not only will you receive a top-notch education according to the globally accepted principles of image, fashion, and style at the Sterling Style Academy, you will also enjoy meeting global jetsetters who share similar interests, goals, and values regardless of their background and culture.  Our programs attract students from more than 40 different countries worldwide with particular interest from students in Mexico, Brazil, Peru, Argentina, China, Singapore, Hong Kong, Thailand, Malaysia, Indonesia, the Philippines, Australia, India, Pakistan, Egypt, Nigeria, Angola, South Africa, Lebanon, Jordan, Turkey, Iran, Saudi Arabia, Kuwait, Bahrain, and the UAE.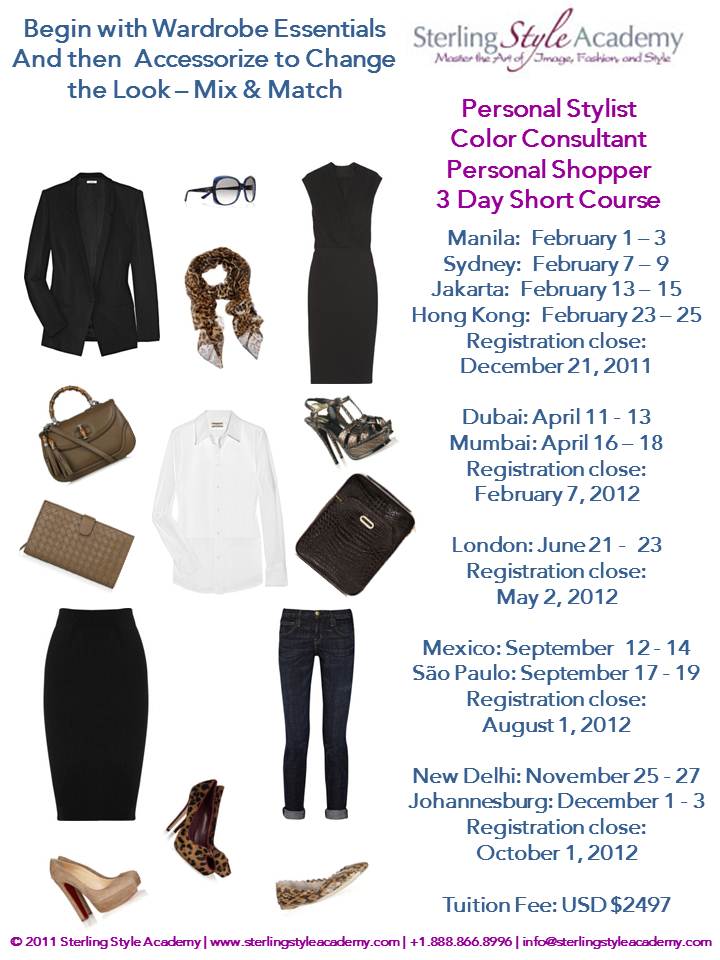 Many of our students have found it beneficial to attend our 3-Day Personal Stylist Short Courses to start their careers as a Personal Stylist and Personal Shopper and then seek further education to become an image consultant with our 5-Day Corporate Image Consultant Training Program in New York or Dubai. 
For further details about our 3-Day Short Courses, current and future training dates, and registration fees, please click here.
About the Sterling Style Academy
The Sterling Style Academy trains and certifies prospective and aspiring image consultants, personal stylists, and personal shoppers to pursue the career of their dreams.  With 10 annual training courses held throughout the year in New York, London, Dubai, Mumbai, Hong Kong, Sydney, Miami, Las Vegas, and San Francisco, as well as Online Training, Teleclasses, and Short eCourses, the Sterling Style Academy prepares you to become a top notch pioneer in the image consulting, personal shopping, and personal styling industry.  Master the art of image, fashion and style to become a fashion styling expert.  Contact the Sterling Style Academy today to learn how we can help you start a career you are passionate about – shopping and styling!  Like us or become our BFF on Facebook.