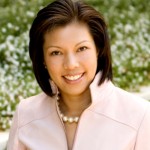 When people ask me why do you do what you do and do people really make money doing it?  The answer is because I LOVE what I do with an absolute passion and yeah, I make a living doing it too!  Now just because I'm passionate about what I do doesn't mean there isn't a lot of hard work, round-the-clock projects, and innovation going on – not to mention the need for execution.  My career started out, just as yours will too, putting all the time, effort, and energy into networking, creating strategic alliances, finding my niche – ultimately all to market myself and get my name out there.  
In a relatively young and new industry such as image consulting there is so much opportunity there to create a name and a niche for  yourself, however it all really comes down to how much do you want to be an image consultant, personal stylist and personal shopper.  And are you going to take the initiative to make it happen?  Ask yourself what motivates you to want to become an image consultant and what are my gifts?  By clearly being able to define your natural talents and believing in yourself, you too can become one of our rock star, go-getting graduates from the Sterling Style Academy. 
To be successful, you need focus, determination, and a plan!  That's why we encourage our students to make an investment in themselves and their businesses with our Sales, Marketing, Business Brand Identity Launch Kit.  The Sterling Style Academy is here to be your "enablers."  This is why we've been working so hard to create our wonderful learning tools and resources for you.  Just in two years we've rolled out the Sales, Marketing, Business Brand Identity Launch Kit, Wardrobe Consulting, Personal Shopping, Personal Styling, and now, What Are My True Colors? which will soon be followed by Color Analysis.  And we are constantly updating our curriculum to bring  you training modules that represent current fashion, while also teaching you how to mix haute couture with high street fashion.

So what is really missing from the Sterling Style Academy education?  YOU.  You are the only one missing from taking advantage of this international opportunity to travel the world, experience new places, cultures, and shop!  This opportunity is a dream come true for most fashionistas.  So follow your heart, to follow your dreams, to find your true calling. 
I can sincerely tell you that there is no other career more befitting to my life, personality, tastes, and interests than becoming an image consultant, personal stylist, and personal shopper.  I wake up every morning feeling fortunate and grateful that I fulfill my life's passion on a daily basis.  Can you say the same thing?  Well what are you waiting for?  The Sterling Style Academy is your opportunity to live  the life of you desire – and it never gets boring either if you create opportunities for yourself and to just be your fabulous self. 
About the Sterling Style Academy
The Sterling Style Academy trains and certifies prospective and aspiring image consultants, personal stylists, and personal shoppers to pursue the career of their dreams.  With 10 annual training courses held throughout the year in New York, London, Dubai, Mumbai, Hong Kong, Sydney, Miami, Las Vegas, and San Francisco, as well as Online Training, Teleclasses, and Short eCourses, the Sterling Style Academy prepares you to become a top notch pioneer in the image consulting, personal shopping, and personal styling industry.  Master the art of image, fashion and style to become a fashion styling expert.  Contact the Sterling Style Academy today to learn how we can help you start a career you are passionate about – shopping and styling!  Like us or become our BFF on Facebook.
Other countries with a growing interest in color consultations, image consulting, personal shopping, and personal styling are Australia, Austria, Belgium, Canada, Denmark, Finland, France, Germany, Greece, Hong Kong, Ireland, Israel, Italy, Japan, Netherlands, New Zealand, Norway, Portugal, Singapore, Spain, Sweden, Switzerland, the United Kingdom and the United States. The emerging market country indices included are: Brazil, Chile, China, Colombia, Czech Republic, Egypt, Angola, Congo, Bangladesh, Hungary, India, Indonesia, Korea, Malaysia, Mexico, Morocco, Peru, Philippines, Poland, Russia, South Africa, Taiwan, Thailand, and Turkey.