The Sterling Style Academy's personal shopper, personal stylist, and image consultant training certification programs are developed with one goal in mind — to provide our students with the training and tools necessary to become successful, top-notch image consultants, fashion consultants, personal stylists, and personal shoppers.  Our experienced trainers attract strong students and result in quality graduates.
The Sterling Style Academy offers eight different types of certification programs:
Please click on the image below to view a course curriculum comparison of all our programs.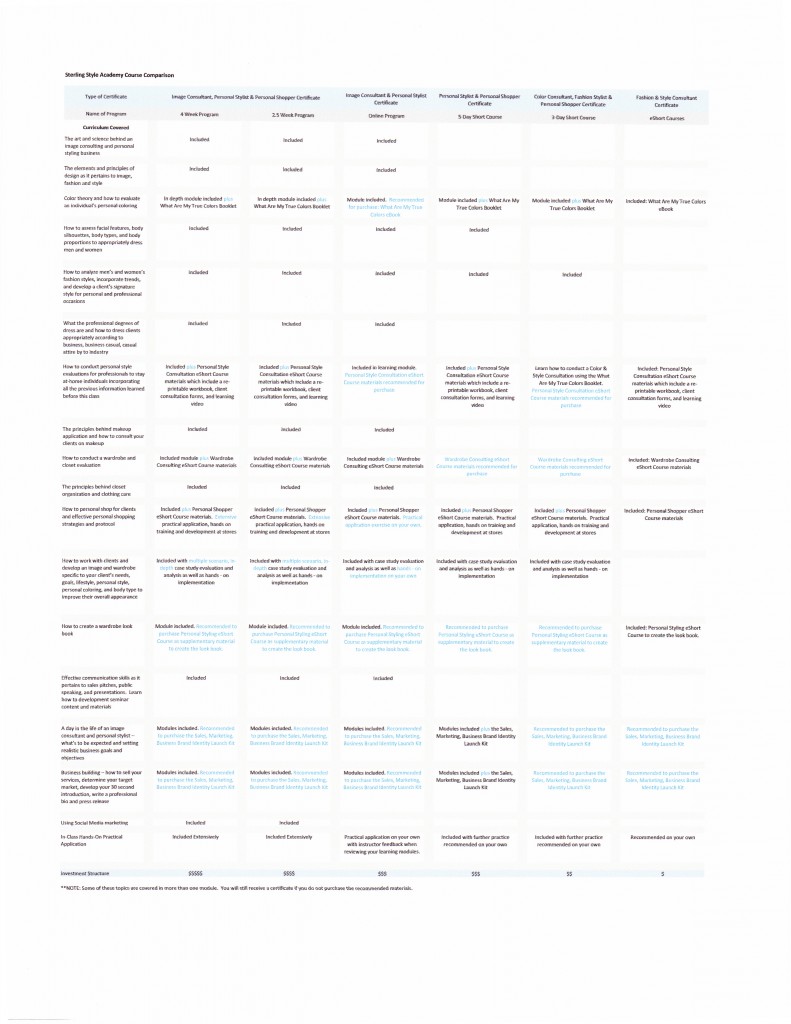 The eShort Course Certification Program is  comprised of a 5-volume series of electronic learning tools and resource products that consist of a video tutorial, e-workbooks and/or templates to use with clients.  Upon purchase, you will receive a certificate as a Fashion & Style Consultant.
The difference between the 3-Day Short Course and 5-Day Short Course is that the 3-Day Short Course does not cover body analysis nor business development.
The 5-Day Personal Stylist & Personal Shopper Certification Program was designed for the busy professional who cannot take that much time off of work or for the home maker who cannot leave her family for lengthy periods of time.  This class is designed to give you all the important elements and knowledge needed to become a Personal Stylist and Personal Shopper and is the abridged version of the 2.5 week certification program.  This class gives you a fully comprehensive education and omits the unnecessary details.  Unfortunately, you will not learn how to evaluate a closet or how to create a wardrobe look book in this class.  However you can purchase the Wardrobe Consulting and Personal Styling e-Short Course for that.  Therefore we recommend taking the 5-Day Personal Stylist and Personal Shopper Certification Program for the best value if you'd like to receive the most relevant information to become a Image Stylist and Personal Shopper in the shortest amount of time.
Students enrolled in the 2.5 Week Certification Program, the World Traveler Program, the 4 Week Certification Program, or Online Certification Program will receive and train with the same professionally-designed course curriculum.  In these programs, you will learn:
The art and science behind an image consulting and personal styling business
The elements and principles of design as it pertains to image, fashion and style
Color theory and how to evaluate an individual's personal coloring
How to assess facial features, body silhouettes, body types, and body proportions to appropriately dress men and women
How to analyze men's and women's fashion styles, incorporate trends, and develop a client's signature style for personal and professional occasions
How to conduct personal style evaluations for professionals to stay-at-home individuals
The principles behind makeup application and how to consult your clients on makeup
How to conduct a wardrobe and closet evaluation
The principles behind closet organization and clothing care
How to personal shop and effective personal shopping strategies and protocol
How to work with clients and develop an image and wardrobe specific to your client's needs, goals, lifestyle, personal style, personal coloring, and body type to improve their overall appearance
Effective communication skills as it pertains to sales pitches, public speaking, and presentation development
A day in the life of an image consultant and personal stylist – what's to be expected and setting realistic business goals and objectives
The Sterling Style Academy's course curriculum for the 2.5 Week, World Traveler, or 4 Week Certification programs prepares you for success in the exciting, fast-growing, and profitable industries of image, fashion and style consulting. In addition to receiving our top-notch curriculum, our training and certification program provides you with the Sterling Style Academy Personal Style Evaluation Assessment Tool and Client Consultation Book to ensure success when performing your consultations. The training is conducted by image and communication experts who provide you with interactive exercises, coaching instruction, and in-the-field training to increase your marketability within the industry.
The 2.5 Week Certification Program, the World Traveler Program, the 4 Week Certification Program, and the Online Certification Program differ mainly in the amount of in-class practical application time and cannot be combined or altered with each other.  The experiences you will gain from taking an on-location course versus the online course will differ as well.  We recommend seeing what our students have to say about our programs so that you can decide which program will suit your needs and budget.
Receive the Sterling Style Academy Course Prospectus
Complimentary Podcast

Learn How to Become an Image Consultant
and How to Start a Styling Business

Upcoming Dates & Locations
Learning Tools and Short eCourses