If you're going to buy luxury brand goods, you need to select key pieces. When it comes to Balmain there are two must have that we recommend: 1) the Balmain blazer 2) the logo tank top or t shirt.
Clearly the blazer is more of an investment piece than the tank top or T-shirt. But if you're smart, you'll find these things on sale like the Balmain – Double-breasted Wool-twill Blazer – White • Balmain • $1,470 or the red one. White is still trending right now so pair the blazer with a white top, light jeans, and white boots, and you'll look super chic in this luxury brand, high street, street style look.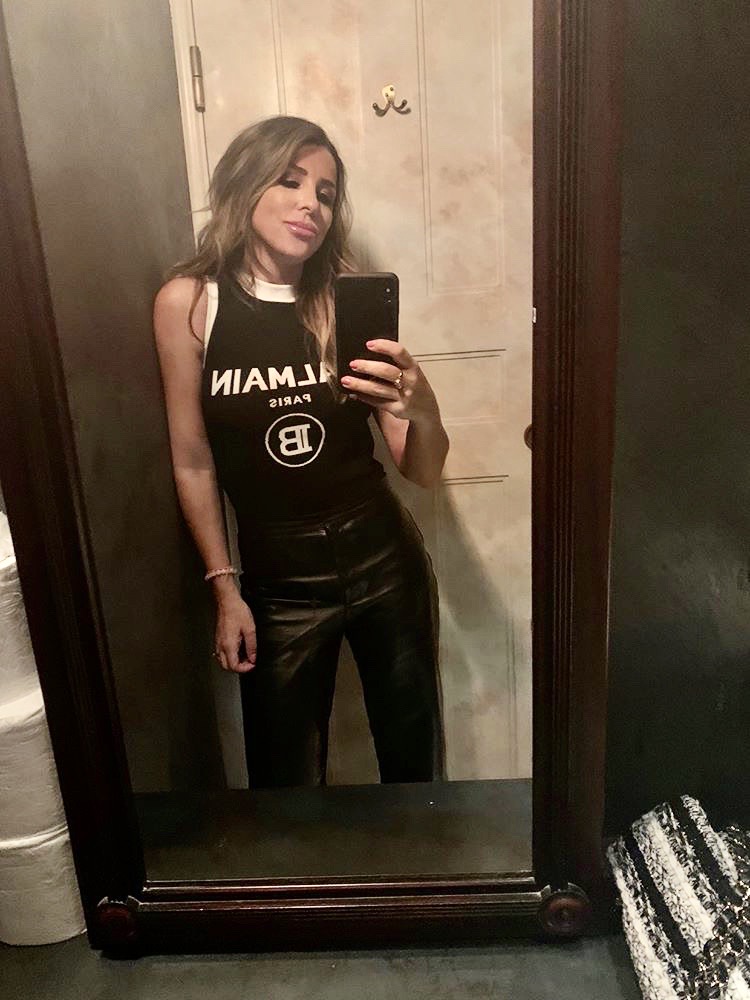 However to get the London street style look of our New York Personal Stylist graduate, select the Balmain fitted tank tops and pair it with a Balmain blazer and leather trousers for a chic yet up-to-date edgy, classic look.
However if Balmain is not in your budget, then we have a few ASOS top picks for you to get the look with the leather trousers. Noticed that her trousers fit closely to her waist, but they don't have to be like skinnies for a more updated fresh look. Pairing something fitted with something a little more loose gives the outfit balance. Add some black boots to this look, in her case it's probably Chanel, and you're all set!
So again it's perfectly fine mixing luxury goods with high street brands to get a street style look. It's just best to buy the luxury goods as investment pieces. Typically investment pieces are like blazers. That said, you can get a Balmain look jacket without spending the Balmain price.
Net-a-porter might have some other options for you but if all else fails you can go try Veronica Beard Empire Double Breasted Blazer • Veronica Beard • $598 .
If you want to learn how to dress yourself better, we recommend enrolling in our courses in partnership with FINY. From New York, London, Dubai, New Delhi, Kuala Lumpur to Singapore and Jakarta, FINY has courses that will help you better dress yourself and others to become a personal stylist! Alternatively, we recommend our e-certification course, click here for details.
Or alternatively you can hire one of our personal stylists from New York, London, Dubai, Riyadh, or New Delhi to work with you. Stylist are also available to online shop for you.
For more style tips follow us on Instagram @SterlingStyleAcademy
For brand collaborations, please contact our Sterling Style Academy founder, Michelle T. Sterling and/or follow her @thesterlinglifestyle Michelle T. Sterling is an international recognized personal branding expert and start-up entrepreneur coach. She's an authority on fashion with 25 years of experience in the luxury brand industry but her favorite street style is to mix luxury brands with high street fashion to create a modern look.  She truly loves sharing her knowledge of how to create everyday stylish looks with an emphasis on comfort and dressing for your body type.
If you have any requests on what to wear or how to dress, please comment on one of our posts on Instagram.
SHOP OUR RECOMMENDATIONS BELOW.
Veronica Beard Empire Double Breasted Blazer • Veronica Beard • $598
Balmain – Double-breasted Wool-twill Blazer – White • Balmain • $1,470
Balmain Double-Breasted Wool Blazer • Balmain • $2,295
Balmain DOUBLE BREASTED WOOL TWILL BLAZER • Balmain • $1,905
Balmain Red Buttoned Logo Sleeveless T-Shirt • Balmain • $177
Balmain logo printed T-shirt • Balmain • $275
Balmain Black Knit Crop Tank Top • Balmain • $338
Balmain Black Asymmetric 3-Button Tank Top • Balmain • $350
Asos Design ASOS DESIGN sequin cami with strap detail-Gold • Asos • $22.50
Asos Design ASOS DESIGN tank with sexy square neck in white • Asos • $14.50
Lace & Beads embellished sleeveless crop top two-piece in pink • $87
Alexander Wang Black Stretch Faux-Leather Trousers • Alexander Wang • $423
Caroline Rose Bi-Stretch Faux-Leather Pants, Black • Caroline Rose • $130
Stuart Weitzman Nell Smooth Napa Booties • Stuart Weitzman • $308
Madden Girl Meeko Block-Heel Booties • Madden-Girl • $41.40