If you've always wanted to have your own boutique, like the concept of selling accessories like a Stella & Dot stylist, or want to style department store windows or magazine editorials, our 3-Day Short Course to become certified as a color consultant, fashion stylist, and personal shopper in New York, Miami, Dubai, London, or Hong Kong is the perfection fit for you.
You've taken a look at our classes, don't have time to take Introduction to Image Consulting Level I and II nor do you necessarily have the budget to attend these programs.  You can more easily convince your husband to spend $3000 on a course that you can turn into a career instead of purchasing you a new bag.  And you're not even sure if you want to do this for a living.
Therefore the Sterling Style Academy 3 Day Short Course in color, fashion styles, and personal shopping is the perfect fit for you to see if you will want to do this for a living, or is the perfect compliment if you already own a boutique, are a hairstylist or makeup artist, sell clothing or accessories whole sale and just love fashion.  The education that you will learn in our program can even be useful for yourself and to better style your husband, friends or family.
Knowing which color you should put on a person to highlight the client's personal coloring if you're a personal stylist is as important as knowing when to highlight the clothing and deemphasize the model when you're a fashion stylist.  Many of our graduates have used our program as a springboard to do other things.  Some of them end up being wardrobe stylists on set, or fashion stylists for magazine editorial, some are TV hosts, own a spa, beauty salon, or a boutique or fashion line.  All of them agree that learning about color, fashion styles, and how to select the appropriate clothing based on an individual's roles, goals, and needs is an important skill set to have if you're interested in fashion.
Don't be a celebrity stylist who chooses the wrong colors for her client to wear on the red carpet because "this dress is so fabulous and you're obsessed with it!"  Choose the right colors for her and more photos will be taken of her, and more people will want to know who styled her!
If you're looking for a slightly more in depth training program than 3 days, our 5-Day Short Course to become a Personal Stylist and Personal Shopper covers body analysis and business development as well.  Knowing how to sell yourself and your services are as important as knowing how to execute a consultation.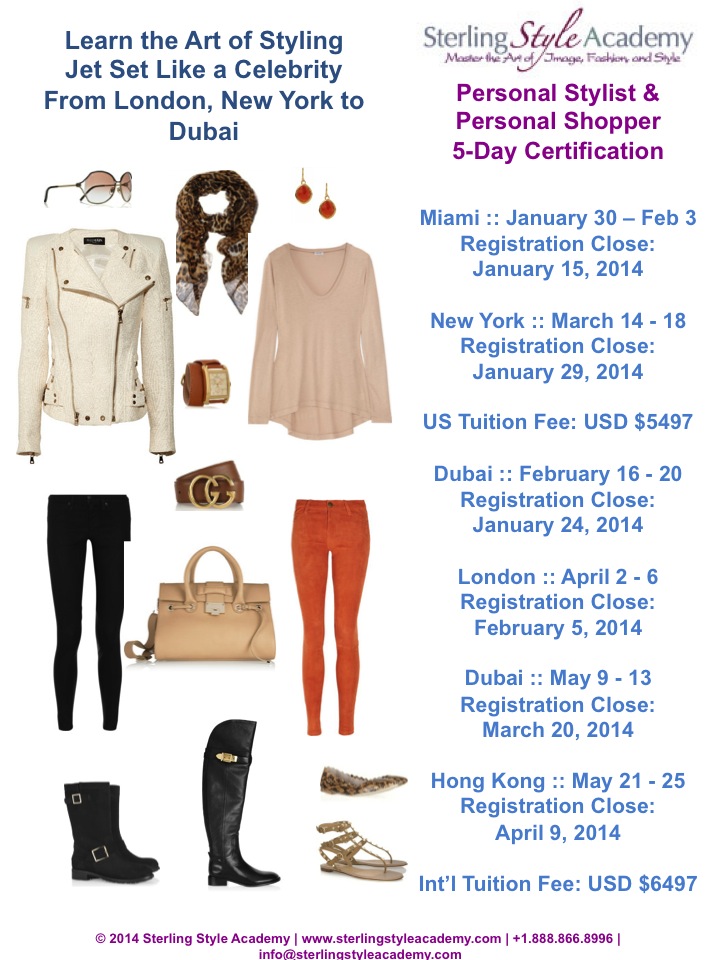 Register for the Sterling Style Academy and become one of our elite by-invitation only members to the Certified Image Stylist Group.  We not only provide our students with a solid education, we further support their careers in helping them to market their services which is why we have graduates from the US, UK, the Netherlands, Germany, Austria, Switzerland, Belgium, Denmark, Poland, Russia, France, Spain, Italy, Greece, Slovenia, Australia, Mexico, Brazil, Peru, Argentina, Venezuela, Colombia, China, Singapore, Hong Kong, Thailand, Malaysia, Indonesia, the Philippines, India, Pakistan, Egypt, Nigeria, Angola, South Africa, Lebanon, Turkey, Iran, Saudi Arabia, Kuwait, Bahrain, Qatar, and the UAE.
About the Sterling Style Academy
The Sterling Style Academy trains and certifies prospective and aspiring image consultants, personal stylists, and personal shoppers to pursue the career of their dreams.  With training programs held on-location in Miami, New York, Los Angeles, London, Hong Kong, Dubai, Mumbai, Shanghai, São Paulo, and Mexico City, as well as Online Training,Teleclasses, and Short eCourses, the Sterling Style Academy prepares you to become a top notch pioneer in the image consulting, personal shopping, and personal styling industry.  Master the art of image, fashion and style to become a fashion styling expert.  Contact the Sterling Style Academy today to learn how we can help you start a career you are passionate about – shopping and styling!  Like us or become our BFF on Facebook.