Are You New to the Image Consulting Industry and Don't Know Where or How to Start a New Business?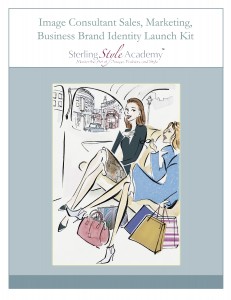 Launching a new image consultant career and image consulting business is one of the biggest time commitments and personal investments an individual will undertake in their life.  New image consultant business owners wear many hats; and while building your business and reputation, it may become easy to unknowingly let certain details slip through the cracks.
When first starting a company it is useful to have a road map to guide you toward building a successful career as an image consultant.  80% of building an image consulting business relies heavily on how you market and promote yourself and only 20% is about execution of consulting services. Therefore in order to set yourself up for success, it's important for you to understand the fundaments of building an image consultant business and set goals for yourself to accomplish all these tasks with the Sterling Style Academy.
The following are steps to help you start a successful image consulting business:

Step 1 – The Business Brand Identity. When you are first starting an image consulting business, you will need a starter business brand identity.  This includes business cards, brochures, flyers, and website.  I always recommend starting here first because every opportunity you get to meet someone new is an opportunity for you to convert someone into a new client.  If you do not have these standard marketing materials, how will anyone have confidence in your abilities?
Step 2 – The Business Plan. Then I recommend working on your business plan.  It is very important to have a clear vision of your company and who your target audience is.  Writing a business plan from A to Z will help you understand how much money you'd like to make and how to plan accordingly to put the steps into place so that you can make your desired image consultant salary.
Step 3 – The Marketing Plan. A marketing plan will help you define who your target demographic is and what steps you will need to take to reach your target demographic.  It will also help you further define which services you intend to offer and enable you to later define your niche as you grow your business as well as help you define your fee structure.
Step 4 – The Sales Pitch. Once you have a better idea of the products and services you intend to offer, you need to sound like an expert.  Therefore it is essential that you master your sales pitch to turn every social opportunity into a business opportunity.
Step 5 – Further Establishing Your Credibility by Delivering Your Message with Digital Media. Building your credibility starts by developing digital presence.  Media kits include many things such as professional photos, your biography, blog articles, and social media pages.  If you'd like to become a cut above the competition take our Instagram BLOGGER COURSE for just $397.  Click here for details.
We are available for image consultant business mentoring for US$97 for 45 minutes to help you get started.

 To schedule an appointment for a video Skype consultation no matter where you are in the world, simply make your investment below and once the system notifies us that you've made your payment, we will email you to schedule a date and time for your business mentoring consultation.  Click here to see what our graduates are doing now.
Schedule an Image Consultant Business Mentoring Consultation

for 

US$97.00
Please press submit to make your credit card purchase today.
Consultations are conducted and billed through Global Image Group, Inc. and are non-refundable.
If you feel like you need a more structured training program to get your business started, click on the Instructor Led Training button and sign up for Lesson 9 and/or 10.

Does marketing your business sound like you need to spend thousands of dollars on a business consultant, public relations and marketing consultant, or a copy writer in order to develop professional marketing materials?  What if all of your sales, marketing and business brand identity materials were handed to you in a start-up kit that is easy to customize for your specific needs and company?
At the Sterling Style Academy, we understand that you have already invested thousands of dollars in your image consultant training and therefore we have developed an affordable "How To Guide" to get you started.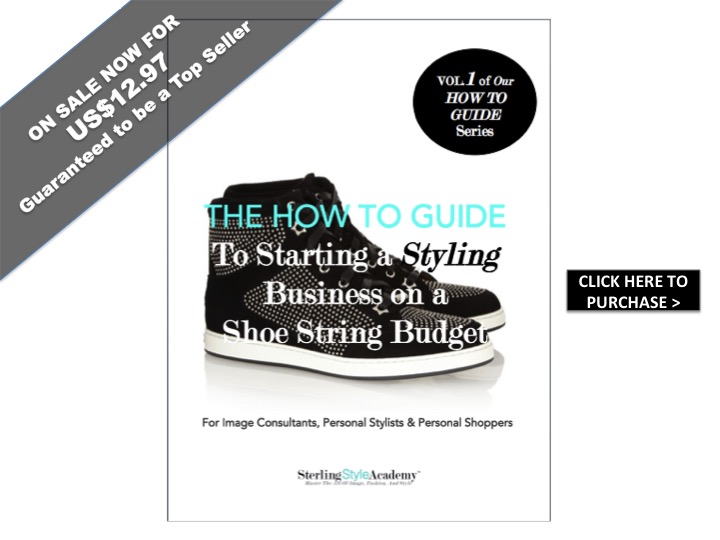 Or the Sterling Style Academy Image Consultant Sales, Marketing, Business Brand Identity Launch Kit provides you with all of the tips and tricks you need to know to survive and thrive in this competitive economy.
Our Image Consultant Sales, Marketing, and Business Brand Identity Launch Kit includes the following: 
A video tutorial on how to use the Sales, Marketing and Business Brand Identity Launch Kit
Multiple image consultant press releases templates
Simply input your company information to make it your own
Sample image consultant sales pitches
This will help you determine the best way to approach your target customer
An image consultant business plan outline and worksheet with an earnings income projection model
An image consultant marketing plan outline and worksheet– tailored for the image consultant industry and includes today's top marketing strategies
Sample business card, post card and brochure templates
Customize each template by inserting your information and organization's colors and logo
Sample text to sell your image consultant business and services
Use in your sales collateral, website and direct-to-consumer materials
A 40-minute coaching session to discuss your current business growth needs and how to incorporate these materials to build your business (Please email us to schedule this appointment upon receipt of your launch kit.)
Learn how to promote and market yourself to become a successful image consultant using the Sterling Style Academy methodology which has produced top-notch image consultants like Yuuri Takano, Japan's leading image consultant of choice. Within the first three years of being in business for herself, Ms. Takano is among the top two percentile of highly paid image consultant and personal shopper salaries worldwide – earning more than US$250,000 per year.
Investment for Sterling Style Academy Incoming Trainees


US$597.00

USA

International

 

Investment for Non-Sterling Style Academy Trainees or Graduates


US$697.00

USA

International

 
Postage and handling for US or international delivery will be billed in addition to your investment outlined above.  Please allow 1 – 2 weeks for your package to arrive. You will receive electronic access within 24 hours of purchasing the product.
All Sterling Style Academy training programs and consultant resources are non-refundable and are billed through Global Image Group.  The templates from the Sterling Style Academy Sales, Marketing and Business Brand Identity Launch Kit can be translated into your primary language to suit your needs; however the Sales, Marketing and Business Brand Identity Launch Kit workbook can not be translated for reproduction without prior consent of the Sterling Style Academy.
About the Sterling Style Academy
The Sterling Style Academy trains and certifies prospective and aspiring image consultants, personal stylists, and personal shoppers to pursue the career of their dreams.  With training programs held on-location in Miami, New York, Los Angeles, London, Hong Kong, Dubai, Mumbai, Shanghai, São Paulo, and Mexico City, as well as Online Training,Teleclasses, and Short eCourses, the Sterling Style Academy prepares you to become a top notch pioneer in the image consulting, personal shopping, and personal styling industry.  Master the art of image, fashion and style to become a fashion styling expert.  Contact the Sterling Style Academy today to learn how we can help you start a career you are passionate about – shopping and styling!  Like us or become our BFF on Facebook.