Why hire a Virginia image consultant? If you're looking to get promoted in your career, or if you work in the government and you need to protect a certain image, or if you would like to project more professional presence, working with an corporate D.C. image consultant would benefit you.
The way business gets transacted in this technological world has changed in the last 20 years. As millennial's progress in the workforce and those of Generation Z enter the workforce, knowing how to look like a professional in a technologically driven society is very important.
The way you look and present yourself in person and online is important in order to be taken seriously and progress in the workforce. When you look casual, people will not take you as seriously as when you look professional. Projecting a professional image stems from your first impression. It is the impression that you give when you walk through the door of a meeting. It is the impression that you give when you work with internal and external stakeholders. It is your overall professional presence as you progress in the workforce. Moreover, it is also the image that you portray on LinkedIn. Projecting the image that is expected of a particular role in business can mean the difference between getting promoted or staying stagnant in your career.
Don't let your image hinder you from achieving your professional goals. While the U.S. has a strong job market, the workforce has gotten more competitive. It has become more difficult to work for a corporation or be an employee. You don't want your image to be a deterrent in the hiring and interview process. So take control of what you can control, your professional image.
If you're just starting out in your career or in the workforce, here are some important tips in order to project a men's professional image.
Remember that when you're wearing professional work attire, you are not wearing casual clothes like jeans or sweatpants. Transitioning from college / university days should reflect in the clothing that you wear, and this means not purchasing trousers or pants that fit tightly around your buttocks and legs. While it might be the trend to wear tight pants, it does not look professional especially if your boss is in their 50s or 40s. So be sure to keep some space in the seat area of your trousers, perhaps 1 inch of room, and also a bit of space throughout the legs. While wearing slim cut trousers may show off a more athletic physique, it does not necessarily look that professional.
However, if you are a lean guy, you will be more inclined to wearing a slim cut suit. Again please leave some space in the seat and throughout the legs as well as in the jacket or blazer or suit that you're wearing. This is one small tip yet a key factor in presenting a professional image. We know you don't want to look like you're wearing your father's suit or trousers, but wearing very tight blazers, shirts, and trousers project a more fashion forward image and not a professional image. You don't want your clothing to attract attention to you. You want your clothing to enhance your professionalism, enhance what you have to say, and you definitely do not want it to be a determining factor from being taken seriously.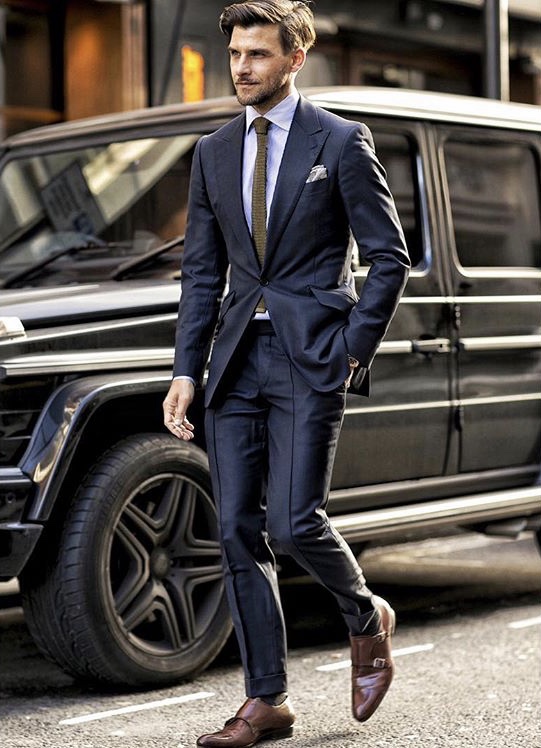 The suit featured in this photo is a slim cut suit and it is being worn by a lean professional model. It is a fashion forward suit because it has a peak lapel, a center crease through the middle of the trousers and is finished with cuffs. Again this is a fashion forward rather than classic look for a men's suit because of those details. Moreover the skinny knit tie adds to his stylish look (not to mention it's tied a bit short). This look is more frequently worn by European men and he is actually German. The suit is not so tight that it is closely hugging his body, however it is a closely fitted suit.  If you do not have this tall lean physique, we do not recommend this type of suit for office attire especially in the Virginia/DC Metro Area.
To learn what looks best on you according to your profession, your body type, and your personal coloring, click here work with a professional business image consultant.
When getting a professional business image consultation, it's important to receive a personal style analysis. Our business Virginia image consultants are trained on how to consult you on the professional image that you project as well as enhance the personal image you'd like to project. They are experts in the industry with over 20 years of experience managing and perfecting the personal and professional image of others.
Contact Global Image Group consultants for a business image consultant available in the Northern Virginia and DC area for your image consultant, business etiquette, professional presence, and communication skills training.  Click here for a virtual image consultation.
Below are some business casual to casual looks that are not appropriate for certain industries or positions, however they are appropriate for other professions. Feel free to shop our business casual to casual looks to look more polished and enhance your image.
Hugo Boss Virgin Wool Zip-Up Sweater • HUGO BOSS • $210
Hugo Boss White Jenno Slim-Fit Cotton Shirt • HUGO BOSS • $155
Hugo Boss Virgin Wool Polo Shirt • HUGO BOSS • $180
Hugo Boss Grey Slim-Fit Tapered Virgin Wool-Blend Tweed Trousers • HUGO BOSS • $228
Hugo Boss Brighton Suede Penny Loafers • HUGO BOSS • $400
Hugo Boss Slim-Fit Colour-Block Virgin Wool Sweater • HUGO BOSS • $210
Hugo Boss Delaware Slim-Fit Stretch-Denim Jeans • HUGO BOSS • $200
Hugo Boss Mirage Burnished-Leather Sneakers • HUGO BOSS • $400