Wondering how to dress like a billionaire by watching Showtime's TV Series, Billions? New York's hedge fund industry is certainly comprised of many billionaires, yet Bobby Axelrod's style isn't necessarily the norm in the hedge fund industry.
If you're wondering how to dress like a billionaire and you Google it, the answer you'll find is that they dress like 'normal men.' However the next thing you need to take a look at is which men and which industries are Google listing as billionaires.

If you're looking at billionaires such as Bill Gates, Mark Zuckerberg, and Jeff Bezoz, they are all in the tech industry which is why they dress relatively casually. Tech guys are notoriously known for dressing casually. Why? Because they can and they just don't place a high value on getting dressed up or looking rich through the clothing they wear. Instead they invest their money in multiple real estate properties, jets, and cars. That's the symbol of their wealth. However keep in mind that Jeff Bezoz has Wall Street roots so you'll see him in a wide range of business attire.

But if you're looking at the billionaires in the hedge fund industry, although the character, Bobby Axelrod, on Billions is portrayed to dress casually and his character is loosely based on hedge fund manager Steven Cohen, dressing casually is not the norm for hedge fund managers. Business attire can range from a suit and tie, or blazer and tie, to a blazer and shirt, or a shirt layered with a zip up sweater. But rarely will you see a billionaire in T-shirt, jeans, and sneakers as his day-to-day hedge fund manager attire. Business attire in New York has gotten more casual in recent years but not that casual!

Although the costume designer of Billions was also the designer in Sex and The City and Gossip Girl, he chose to portray the character of Bobby Axelrod as a guy who doesn't care or need to show his wealth by wearing traditional business attire. Instead Bobby Axelrod portrays an image that 'I'm worth so much money and everybody knows it, that I can wear whatever I want whenever I want.'
However, you will see Bobby Axelrod wear a suit and tie if he has to appear in court, but not if he has to go to a fancy event and everybody else is wearing a suit and tie. It's just the way he is, raw and rough around the edges. Even if Bobby Axelrod has to make a speech in front of hundreds of people, he could still wear a hoodie and T-shirt look like Mark Zuckerberg.

What type of look should you wear or what image should you portray as a hedge manager, much less billionaire?

Well in our first examination we mentioned tech billionaires and I explained to you the reason why they don't get dressed up. But when it comes to the values of people who work in finance, on Wall Street, and as hedge fund managers, they usually care about the impression that they project to others hence they dress up more.

Bobby Axelrod's character (brand persona and brand image) is focused on looking effortlessly chic. But don't confuse his effortlessly chic look with shabby clothing. He might wear a $25 Metallica T-shirt, but on the flipside, he's wearing a Loro Piana zip up sweater and APL or Rag and Bone jeans, along with $500 sneakers, and an expensive watch. Will you find every young, rich billionaire dressed like this? The answer is it's all about the billionaire, what matters to him, and creating his own personal brand image.
Bobby Axelrod's designer casual look is his signature style, which also makes him stand out.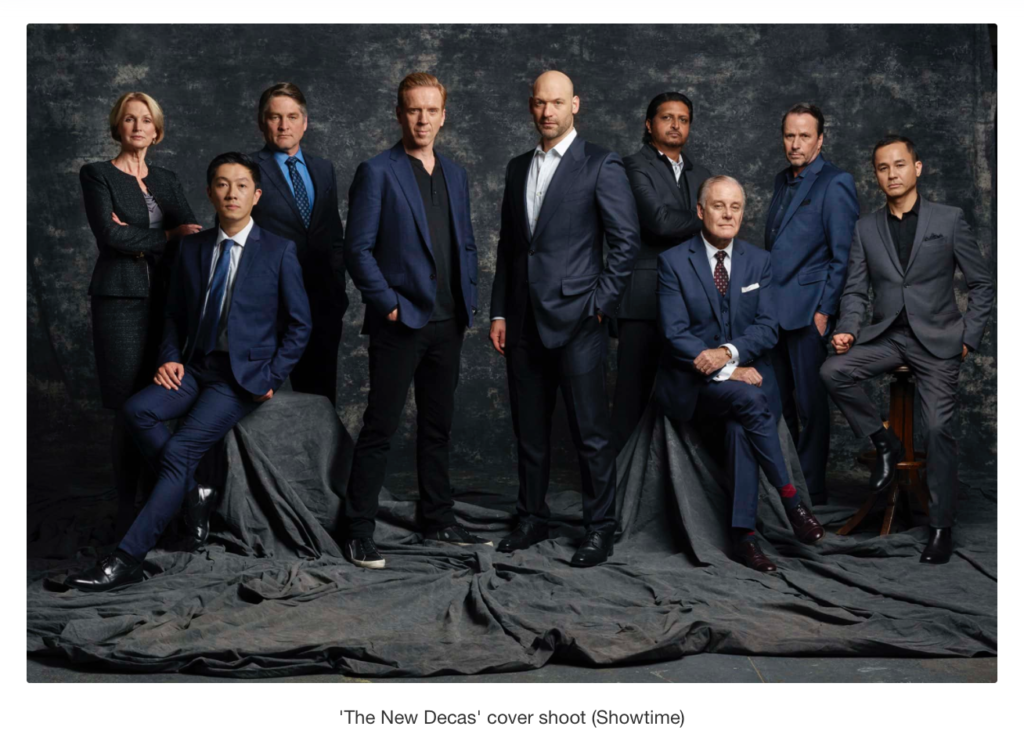 What is underlyingly consistent with all these billionaires is that their educations are based on Ivy League educations. Whether they received a university degree or not is another story, and is irrelevant to the fact that they're absolutely brilliant in order to generate this much money.

However another factor that is consistent across the board in the world of finance is not only having a top education from a top university in the United States, but it's also important to fit in among your peers.

Often times what you wear dictates how you project yourself and who relates to you as your target audience. Said another way, what you wear dictates how well you assimilate and fit in as well as who you associate yourself with.

Regardless of whether dress codes have loosened up or not, an underlining factor still remains the same. The way you dress and present yourself will attract your tribe and dictates your vibe.

Simply put, who do you want to associate yourself with?

Real estate mogul turned United States president, Donald Trump, is a well-known billionaire. You will never see him in a T-shirt and jeans especially if he is speaking to a large audience. Donald Trump always dresses for the occasion.

So if you're still wondering how to dress like a billionaire, what you really need to ask yourself is how do billionaires get to where they are. Unanimously across-the-board, they usually have a tremendous amount of brains. They have a clear vision and strategy for business development and growth. They take calculated risks based on situational analysis. They tend to have tremendous resources at their disposal and a large network of connections. That's the makings of being a billionaire in the United States.

But if you're still trying to get the Bobby Axelrod billionaire look, click here to schedule a virtual styling session with us and we'll tell you what to buy, how to wear it, and when to wear it.
However, with the addition of Michael Prince on Season 5 of Billions, here's an example of a younger hedge fund billionaire, with Midwestern roots, who dresses the polished part. Always in a suit or at least a blazer, he strives to balance his capitalistic nature with good moral values as compared to rough and tough Bobby Axelrod from Yonkers, New York.