What is a Riyadh image consultant? It's a relatively new industry especially in Saudi Arabia. There are not many people who do it but a Saudi woman's interest in fashion is high so turn it into a career where you start your own business as a fashion entrepreneur.
An image consultant's job is to advise people on what they should be wearing according to their appropriate personal coloring, body type, and fashion style type, as well on the image that their client should project.  In Riyadh specifically, an image consultant can tell you how to put a modest look together so that you don't always have to wear an abaya and you always look fashionably dressed.
Instagram and Snapchat are a Saudi Arabian woman's favorite way of consuming fashion trends and hotspots to dine at.  Saudi women look for fashion tips from their favorite modest fashion influencers. Many women are already fashion designers or abaya designers who are looking to expand their knowledge and provide consultancy services to the clients they already have.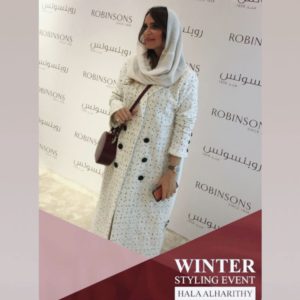 Saudi women love supporting each other and also love receiving an international education.  So if you're in Riyadh or can travel to Riyadh, then you can receive an international education with the Sterling Style Academy without leaving your country.
At the Sterling Style Academy we thoroughly understand the Middle Eastern culture. We have been coming to Dubai since 2009, training individuals from all over the world particularly from Arab countries and the GCC.
In April 2018, the Sterling Style Academy was invited to host workshops at the first ever Arabic Fashion Week due to our reputation in the Middle East with several Fashion Influencers from Riyadh and Jeddah.
Therefore we are pleased to announce our upcoming courses in Riyadh for Image Consultant Training, Personal Stylist Training and Personal Shopper Training.
RIYADH MARCH 2020
5 Day Image Coach Training: March 1 – 5, 2020 | US$3677
Registration Closes on January 5, 2020
3 Day Color, Styling & Shopping Course: March 4 – 6, 2020 | US$ 2,746
Registration Closes on January 5, 2020
RIYADH DECEMBER 2020
5 Day Image Coach Training: December 6 – 10, 2020 | US$3677
Registration Closes on November 9, 2020
RIYADH ONLINE

During the COVID-19 situation,we are offering a fully instructor led 2-week image consultant and personal stylist training course online beginning May 4 – 15, 2020 from 1pm – 6:00pm Eastern Daylight Time PLUS an additional two weeks of guided independent study for practical skill set development for an investment of US$3447 + US$497 to receive certification.  This course will be taught in a similar manner to the in-class course, which has produced leading image consultants worldwide, and is normally an investment of US$8800 if you take it in New York, Dubai, or Miami.  So take advantage of this offer, be productive during this pandemic, and see you online! This promotional package does not include our eShort Courses in the training investment.  #coronavirusoffer
 #coronavirusoffer

FOLLOW US ON SNAPCHAT