As Valentine's Day 2012 falls on Ladies Night in Dubai, show her how much she means to you by taking her out and getting dressed up for a special night on the town.  Dinner or dancing, what strikes your fancy?
Valentines Fashion Tips for Her:
Start with Color.  Go pink, red, or white depending on what message you want to communicate.  Pink is sweet.  Red is hot!  And white is elegant and pure.  
Wear a Dress.  Worn to the knee for modesty or as a short mini to look sexy.  Pick a dress that flatters your body type – an hourglass silhouette looks best on all shapes and sizes. 
Select the Shoes.  Go high and strappy.  Men can't resist a woman in sexy heels.  Leave the peep toes for the office.  Although if you're going dancing and want to look sexy and bling, go for it!  Anything goes in Dubai so make the most of it! 
Then the Bag.  As it's a night out on the town, select a clutch and leave your big, fashion "it" bags at home.   
And Accessorize.  An outfit is not complete without the proper jewelry.  Perhaps you'll wear the new necklace or earrings your partner gives you on this special day (hint, hint – gentlemen).  However if you're not that fortunate, select something simple, tasteful, and classy – diamonds or Swarovski are a girl's best friend! 
Coordinate your Makeup.  If you decide on a red dress, go with red lips.  If you go pink or white, go nude on the lips, darker on the cheeks and smoky on the eye. 
Finish with Fragrance.  So do you want to smell like sugar and spice or naughty and nice?  Selecting the proper fragrance is always a personal preference.  Our personal favorite, which men seem to love too, is Dior Addict II or Versace Bright Crystal.  Although we hear Gucci's new Guilty Intense is just that – intense.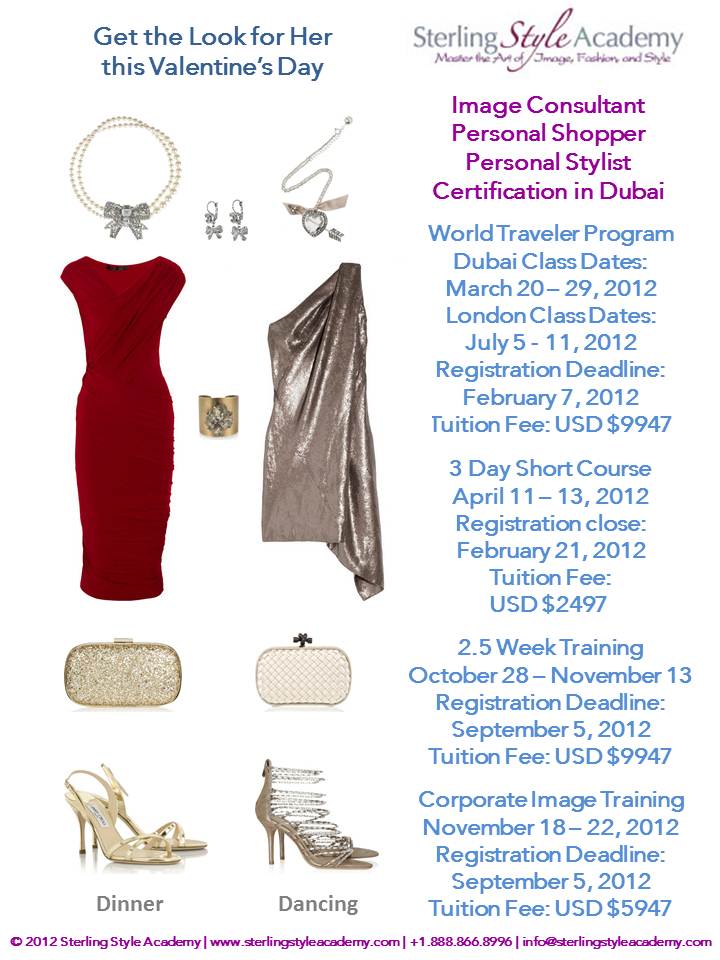 Men, show her you can pamper your princess on this day and that you can look and act like a gentleman too by making dinner reservations (or table reservations with friends if you're going dancing).  Our personal favorite on Tuesday nights is Zuma.  And if you were lucky enough to pre-plan, perhaps you managed to get dinner reservations at LPM.  Flowers are always appreciated.  Jewelry is always a great surprise and delight!  But what should you wear?  To look like a gentleman, you can never go wrong with the following formula.
Valentines Fashion Tips for Him:
The Smart Blazer.  Go blue or grey. 
Paired with a Pocket Square.  Select a rose paisley pocket square or a simple pink one. 
The Fitted Shirt.  Select a crisp, white or pink tailored, button down shirt.  Fitted (but not tight) always looks more sexy.  Add cuff links for a more polished look.
Pair it with Jeans.  Dark denim can always dress up an outfit, making you look cas yet fab.
Finish with Shoes.  For the ultra, fashion forward man we can picture this outfit being paired with white or red, suede driving shoes – Dubai style!  However, personally, we prefer a more formal shoe in black or camel.
Coordinate your Belt.  Your shoes don't always have to match your belt.  So mix it up and have some fun.  After all, you're out on the town too!
Add Fragrance.  Nothing is sexier than the scent of a man.  You can never go wrong with classics like D&G, Chanel Allure or JPG.  Or try Gucci Guilty Intense or Armani Code for something new.  However for the best results, make sure she likes the way you smell too!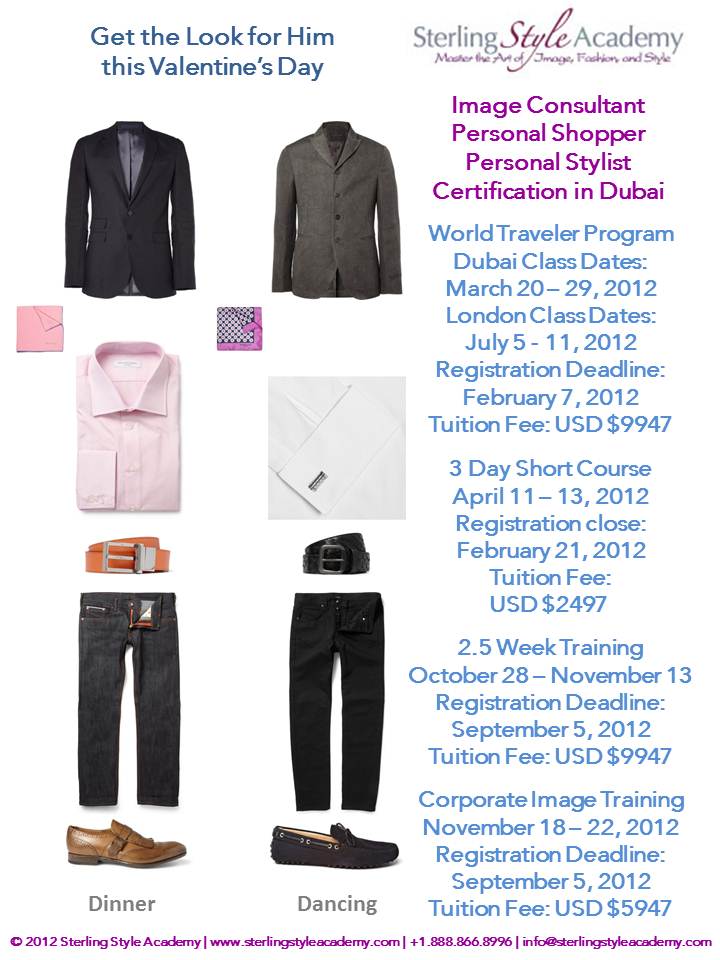 About the Sterling Style Academy
The Sterling Style Academy trains and certifies prospective and aspiring image consultants, personal stylists, and personal shoppers to pursue the career of their dreams.  With 10 annual training courses held throughout the year in New York, London, Dubai, Mumbai, Hong Kong, Sydney, Miami, and San Francisco, as well as Online Training, Teleclasses, and Short eCourses, the Sterling Style Academy prepares you to become a top notch pioneer in the image consulting, personal shopping, and personal styling industry.  Master the art of image, fashion and style to become a fashion styling expert.  Contact the Sterling Style Academy today to learn how we can help you start a career you are passionate about – shopping and styling!  Like us or become our BFF on Facebook.