This is the image consultant course online that will have you pivot into the next generation of digital image consultants and personal stylists. Rather than serving clients locally, serve them globally and scale your business.
Did you know that companies that blog get 55% more web traffic? 57% of businesses have acquired a customer through their company blog. 78% of Internet users conduct product research online. The number of marketers who say Facebook is "critical" or "important" to their business has increased 83% in just 2 years. By 2020, 85% of customer interactions will be handled without a human.
The digital world has changed how we do business and so has the pandemic. Receiving an online education has become the new normal although we rolled out our image consultant courses online 10 years ago ahead of the pandemic.
Have you been wanting to become an image consultant and personal stylist, but you haven't had the time or the money to take that step? Do you have doubts that you can actually turn this into a side gig or even a full-time gig? Then you get overwhelmed by the thought of, "Where do I start?"
What if we told you that we have an online solution, jammed packed with information to execute professional:
image consultations
color consultations
personal styling
and personal shopping sessions
AND even included a BONUS BUSINESS BLUEPRINT outlining a step-by-step process for you to market, launch, and pivot your business?
You're thinking it's too good to be true or sign me up!
The Sterling Style Academy would like to present you with our ONLINE CERTIFIED IMAGE STYLIST program packed with tons of details, tip and tricks of the trade, along with a bit of humor and sarcasm with our founder and training director, Michelle T. Sterling. Never taking herself too seriously, many people think she projects an intense image but actually she's quite funny! That's the power of image.
We are inviting you to open a new door to an opportunity that you never thought was possible.
Train with 4-time award winner, Michelle T. Sterling, and let her teach you her trade secrets to becoming a top image consultant and personal stylist globally. She'll move and inspire you with innovative ideas on how launch, sustain, and pivot your business as well as execute stellar consultations.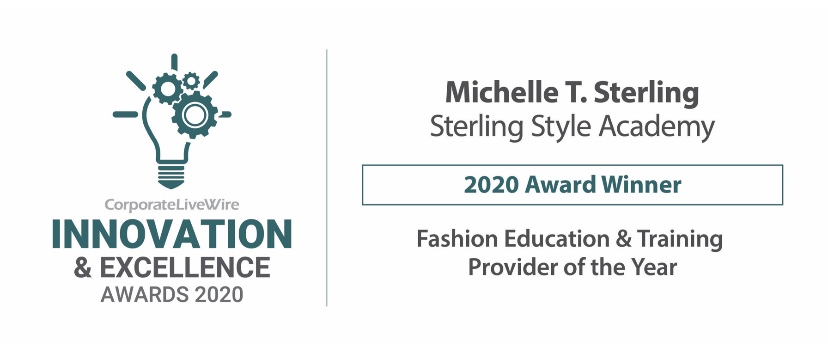 Our Online Certified Image Stylist Program is great for new beginners or if you're a seasoned consultant as you'll learn our award-winning process for conducting seamlessly efficient and effective consultations. All you have to do is follow our steps.
If you're open to new ways of thinking, we'll provide you with a blueprint to follow including:
proven methods
processes
and guidelines for industry best practices
that will create the foundation for you to develop, grow and flourish in your own business.
Our bonus business blueprint is your ticket to adopting existing image consulting and personal styling best practices that will allow you to pivot during the age of digital disruption. See what our graduates are up to.
What's everyone doing in 2020? Turning their natural loves and passions, into a side gig profession.
That extra income is welcomed but you want to make sure you do it in a professional way.
Can I honestly learn enough just by taking a 5-step online course? YES!
Because we condensed everything into:
what you absolutely need to know
what you need to say
and how to do it in this program.
Everyone's journey as an image consultant and personal stylist is different. Some will combine this skill or profession with other things such as:
having an online boutique
being a fashion blogger or Influencer
being a life coach, business services coach, or many other types of coaches
Some of you are on TV or in the media and you love fashion.
Some of you are housewives looking to make your own pocket money.
Some of you are business professionals and just love fashion – you already do this for your friends and family as a hobby.
And some of you just want to become an image consultant but don't want to spend thousands for training

although you want a good training program – one that meets all your requirements.
That's what our Online Certified Image Stylist program gives you, the certainty that once you complete the program, you'll have all the tools necessary to work with clients. Then you'll practice on a few people to strengthen your skills. Then you'll start working with real clients when you follow our business blueprint.
The benefits of taking this information packed training:
is that you can start and stop the video to take notes on exactly what to say in a professional way.
This is especially key when you're interviewing and conducting Personal Style Consultations for clients.
If English is not your first language, starting and stopping the video as much as you want and re-watching it over and over again will surely make you an expert through repetition.
Taking detailed notes on how to execute a Wardrobe and Closet Consultation
to how to conduct professional Personal Shopping sessions, will help you visualize and outline the steps you need to take once you're working with a client.
Watch, Rewind, Repeat
AND AS A BONUS:
We will include a consultation questionnaire that you can use to interview clients with ease before any consultation
We'll also include templates on how to create a wardrobe look book for clients so that you can complete the personal styling process professionally and upsell your services with this tool, valued at $297
We'll also include mentoring valued at $347
And we'll also include our Sales, Marketing, and Business Brand Identity Launch Kit that's a $597 value.
That's over US$1000 in bonuses!
Our Online Image Stylist course offers you a complete all-in-one solution to providing outstanding image and style consultations.
Too good to be true from an online program? Here's what some students have to say about the program.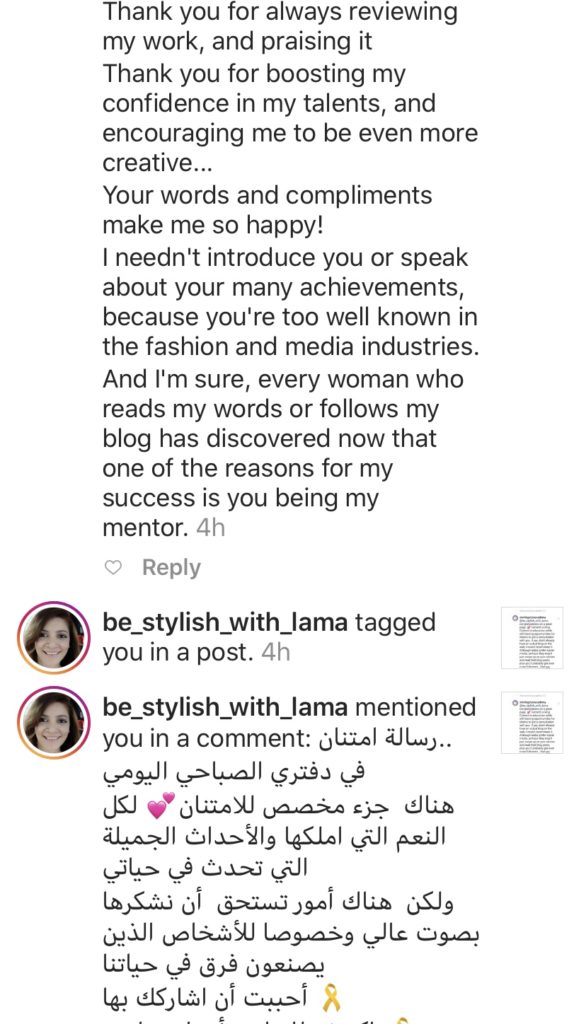 Even if you've taken training from someone else, it's always best to learn other methodologies to streamline your process, improve your efficiency, and charge more! Because if you're organized and efficient, you'll attract high level customers who will pay you TOP DOLLAR to do a good job.
Having a framework, a methodology, and a blueprint will set you apart from other people who call themselves Image Consultants and Personal Stylists with our online Certified Image Stylist program.
For the last 15 years, Michelle T. Sterling has crossed 6 continents providing image consultant and personal stylist training to pioneers in the industry. Through our online Certified Image Stylist Program you will be able to learn all the techniques of her in-class courses in a laser-focused, content rich online program. This program has been purchased by members of the Saudi royal family to your local fashion blogger mom looking to make some extra money to support her fashion and style addictions.
Whether you decide to embark on this journey full time or part time, this program will give you all the tools you need to become successful!
From the US, to Latin America, to Africa, to the Middle East, and to Asia, Michelle Sterling's friendly yet not familiar approach to training has produced top consultants worldwide.  Her multiple six figure USD income is attributed to her transparent, no-nonsense approach to consulting and training. Students love how this program is clear, concise, yet comprehensive. She doesn't overlook any details or hold back any information that would contribute to your success.  In fact, she's your partner in success, and an advocate of you earning 6-figures too while living your passion – a life according to your rules, on your terms.  You'll notice that when you have your mentoring session with her.
Don't get bogged down with training programs that throw a box of details or lengthy books at you in order to become an Image Consultant, Personal Stylist, or Style Coach. We know that volumes and volumes of reading about theory that is not even applicable to this decade is boring! That's why we've created this succinct program to give you all the tools you need to get started! We're not kidding…
In fact, we firmly stand by our training that we will give you 30-day money back guarantee if the program doesn't teach you exactly what we've told you.
Here's what you should be able to do after studying our image consultant courses online.
Marwa has actually even appeared on TV after taking this course.
Are you concerned that you're not going to be able to apply this system and knowledge to your local market and culture?
No need to be concerned because this program teaches you high level concepts that can be applied to any culture, region, and socio-economic background. Moreover, if you have any questions, concerns, or challenges that you've already experienced working with clients, write them down as you study, and they will be addressed during your LIVE online mentoring session.
We are here to empower you to take action toward achieving your goals.
Free yourself of a 9-5 work schedule.
Take control of your time.
Be able to pick and choose which clients you want to work with.
Empower people's lives
And lift their self-confidence and self-esteem when you elevate their image and style.
People have invested up to $14,000 to take our course in-class.
However, our image consultant courses online condenses all the applicable information that you need to know in order to work with clients and execute consultations for just $1000.
Don't forget all the bonuses valued over $1000.
Take advantage of this image consultant course online today, and you will automatically receive a certificate as a Fashion and Style Consultant.
In order to receive a certificate as a Certified Image Stylist, you will need to review the entire training program and then create and submit your own branded Personal Style Consultation book. Further instructions will be outlined in the program.
Register Now
Register for the Image Stylist Certification Program for

US$997.00

USA Students
International Students
All Sterling Style Academy training programs are normally non-refundable and are billed through Global Image Group, Inc. The Certified Image Stylist course, however, has a 30-day money back guarantee in the event that our course did not provide you with all the information you need to conduct and launch a business and provided that you've completed all the steps of the program including your mentoring session with those 30 days.